This document applies to students that are enrolled in a course for which the instructor has requested Azure Lab Services access.
Prerequisites
Connecting to a virtual machine requires Microsoft Remote Desktop which is freely available for download via the link below:
https://docs.microsoft.com/en-us/windows-server/remote/remote-desktop-services/clients/remote-desktop-clients
Microsoft Remote Desktop is available for the following platforms:
Windows
Android
iOS
macOS
The Invitation
You will receive an invitation to your Virtual Machine (VM) in your @mail.sfsu.edu email account.

Click the Register for the Lab button.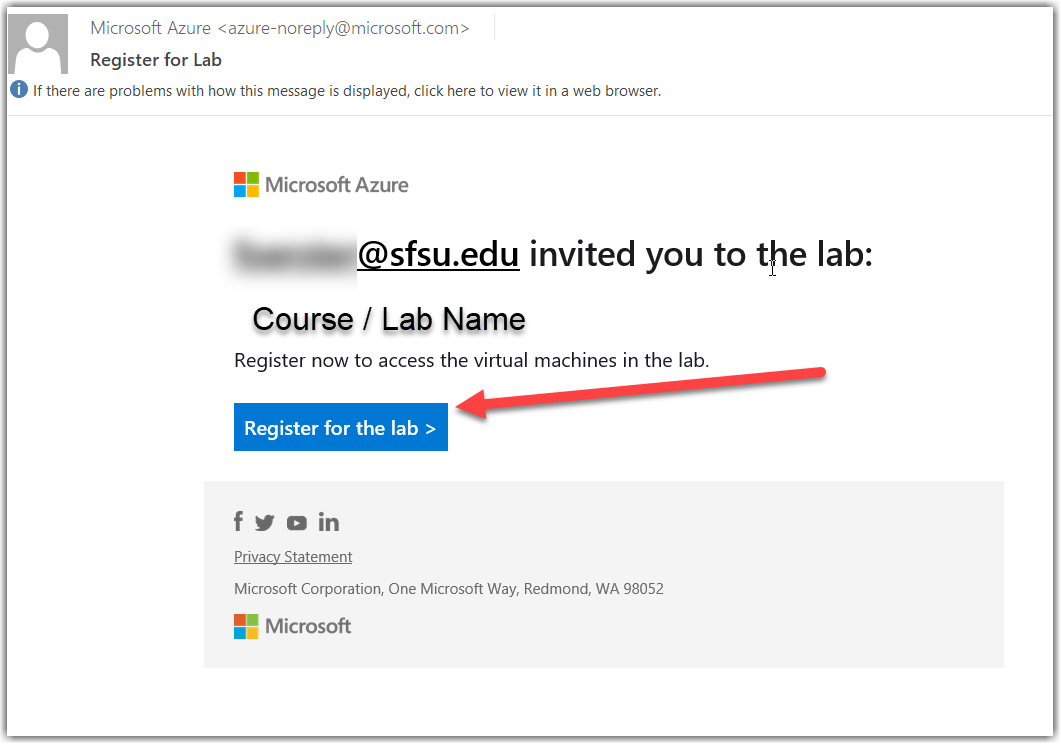 Registration and Logging-in to the Azure Lab Services Portal
After clicking on the link you received in your email, you will be assigned a virtual machine and be taken through the Azure Lab Services login process.

If this is your first time logging in to Azure Lab Services, you will see a Microsoft login prompt. Enter you SFSU email address.






Select your Work or School account.



Sign in to the SF State Global Login with your SFSU email address and SFSU password.


Start your Virtual Machine
If you are accessing your virtual machine outside of regularly scheduled class time, you may need to start the virtual machine.

Toggle the start/stop slider to start your virtual machine.
Note: Starting the virtual machine may take 2-3 minutes.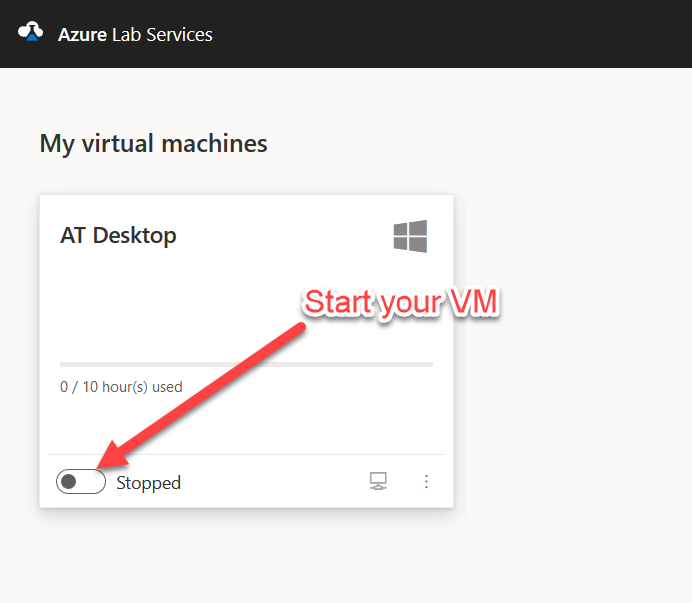 Accessing your Virtual Machine (VM)
Once you have started your virtual machine, click the Connect to virtual machine icon to download the .rdp file.


Check your downloads folder for the .rdp file.

Double click the .rdp file to start Remote Desktop Connection



You will receive an "Unknown Publisher" warning. Tick the "Don't ask again..." checkbox, and click "Connect"


When prompted, enter the login password you were provided by your instructor or in the registration email.

Click OK.
For additional assistance, contact Academic Technology: (415) 405-5555, at@sfsu.edu, LIB 80