Requires Teacher Role.
This guide covers manually adding users who have SF State IDs to a class in Canvas. Students who are officially enrolled and faculty who are officially teaching a class do not need to be manually added.
Navigate to your Canvas course.
In the course navigation menu, on the left side, select the People link.
In the upper right corner, select the + People button.
In the pop-up box, enter the user's SFSU email address.


Note: You can add more than one student at once by separating emails out with a comma (for example: jane@example.com, janet@example.com) or by having one email per line. For example:

   john@example.com
   joe@example.com
   jill@example.com


Select the role you wish to assign to the new user.
Note: Canvas has five different roles to choose from.
Student: Gives the person student-level access just the same as if they were enrolled in the course.
Teacher: Gives a person full access and control to their course as if they were a teacher.
TA: Teaching Assistant gives the person the ability to edit a course page.
TA (non-grading): Same as TA, but without the ability to view and enter grades.
Observer: This user role can be linked to a student user enrolled in a course. For example, advisors and/or mentors may wish to be linked to a student to view their course progress. Observers have the fewest permissions.
6. Select the Next button.
7. Select Add Users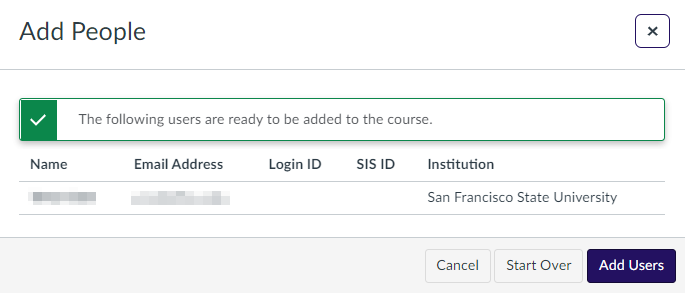 8. The user will automatically receive an email from Canvas notifying them that they have been added to your course.