Getting Started
Where: Availability can be found on the My Availability tab of the Staff Home screen. Depending on role permissions, staff may also be able to review, create, and edit availability for other users.

Who: Appointment availability is a tool that allows staff and faculty to schedule appointments with students within Navigator. Any user who needs to have students schedule and/or drop in through Navigator must first configure their appointment availability.
Availability allows staff to indicate the days, times, locations, and services for which they are available to meet with students. Staff can choose whether the availability active duration is for a specific term, a specific set of dates, or forever. Staff can set availability for appointment scheduling, drop-in visits, and/or appointment campaign purposes.
Administration configurations and role permissions determine whether or not staff can create availability and also determine which Care Units, Locations, and Services will display in a user's availability window.
Note: Navigator will delete inactive date ranges and term-based availabilities over one year on a nightly basis.
Creating Navigator Availability
To begin, open the Actions menu on the My Availability tab and select Add Time. You can also run the Availabilities report and select Add Time from the Actions menu.
After clicking Add Time, you will see the following screen pop-up on your Navigator screen.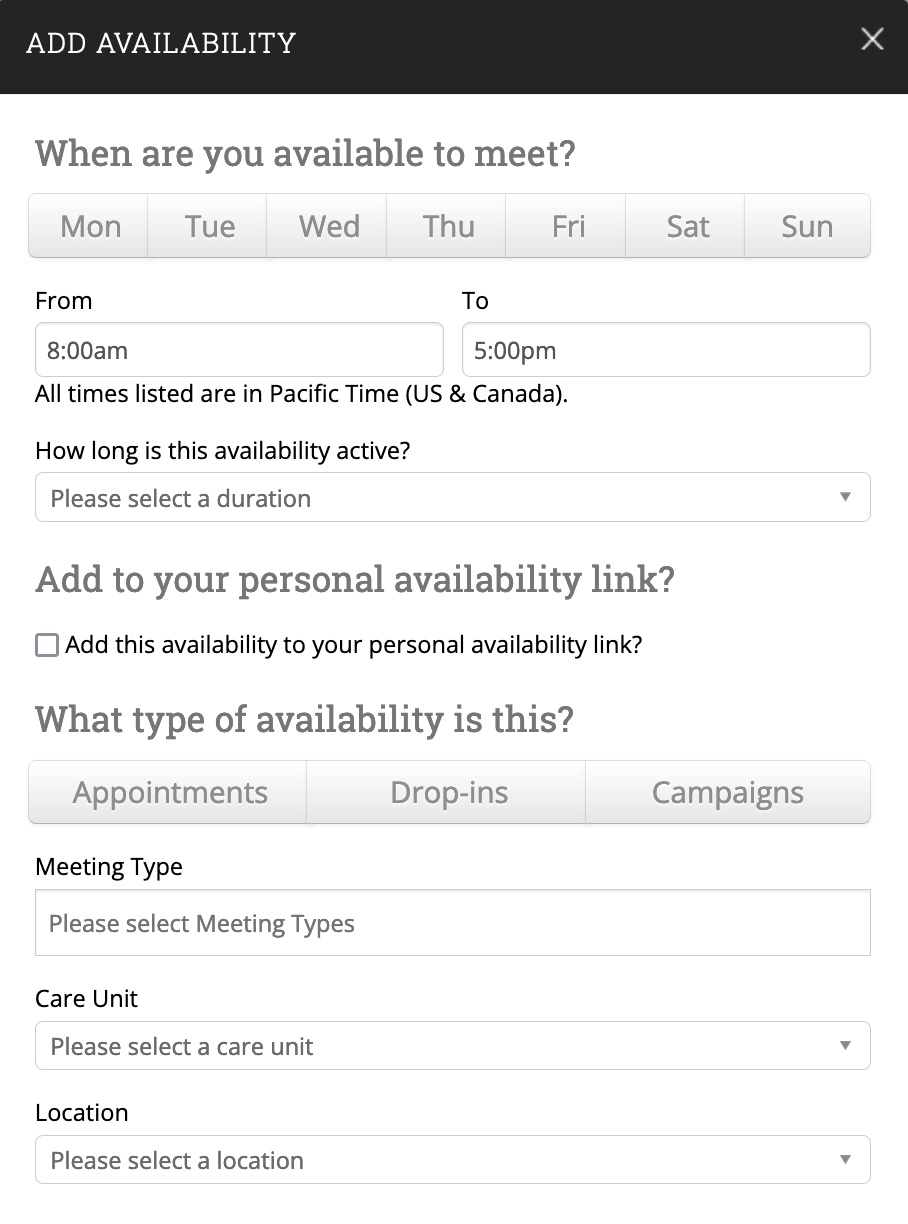 Add to Your Personal Availability Link (PAL)?
Users have a unique URL (PAL) to associate with their appointment availability. The PAL is optional, but the PAL can expedite the appointment making process for students. When a student clicks on the PAL, they will see the availabilities you have associated with the PAL.
The PAL has been used in email signature lines.
Note: PALs do NOT work with drop-in or campaign availabilities.
What Type of Availability is This?
There are three appointment types available staff and faculty.
Appointments

Availabilities with the appointment type will show to students in the appointment scheduler.

Drop-in

Availabilities with the drop-in type will show to students at the physical kiosk at advising locations. Not all advising locations have or will have a physical kiosk.

Campaigns

Campaign availabilities allow staff and faculty to coordinate appointment campaigns where they can invite specific students to schedule with an advisor or faculty for a set time range. Students will receive a campaign invitation in their SF State email and on Navigator, where they can schedule their appointment.
Note: Not all staff members have permission to use appintment campaigns. If you would like to add permission to your profile, please contact the Navigator & E-Advising coordinator.
Meeting Types
Two meeting types can be configured for availabilities.
In-Person (On Campus)
Virtual (Zoom)
The meeting types will show to students in the Navigator appointment scheduler.
Care Unit
Now select your Care Unit from the drop-down. This will determine which location and services the availability show to you.

Current Care Units:
Advising
Learning Support
Study Abroad
Career Services
Graduate Support Services
Location
After selecting the Care Unit, select a Location. You will see the locations configured for the selected Care Unit.
Services
Services are configured for specific Care Units and Locations.
Undergraduate Advising Center Services
URL/Phone Number
Users can note their Zoom URL in this field. The Zoom URL will be shared with students who schedule appointments for the availabilty. Nothing will be shared with the student if you don't include a Zoom URL.
Special Instructions
Information in this field will be shared with students whenever they schedule appointments. The special instructions have proven crucial in sharing information with students before their appointments.
Note: Special instructions will be included in the initial notification to the student regarding this scheduled appointment. We recommend including general instructions, like your office location or how to check in for the appointment upon arrival.
Click the Save button.
Support Resources
If you need support or have questions about Navigator, please email the Navigator & E-Advising Coordinator.
Joshua Michael Rumley
JoshuaRumley@sfsu.edu
For additional assistance, contact navigator@sfsu.edu.