Getting Started
Where: Availability can be found on the My Availability tab of the Staff Home screen. Depending on role permissions, staff may also be able to review, create, and edit availability for other users.

Who: Availability is a tool that allows staff and faculty to schedule appointments with students within Navigator. Any user who needs to have students schedule and/or drop in through Navigator must first configure their appointment availability.
Availability allows staff to indicate the days, times, locations, and services for which they are available to meet with students. Staff can choose whether the availability active duration is for a specific term, a specific set of dates, or forever. Staff can set availability for appointment scheduling, drop-in visits, and/or appointment campaign purposes.
Administration configurations and role permissions determine whether or not staff can create availability and also determine which Care Units, Locations, and Services will display in a user's availability window.
Note: Navigator will delete inactive date range and term-based availabilities older than one year on a nightly basis.
For group appointment availability, staff can adjust the max number of students to reflect how many students can schedule for a single appointment slot.
Depending on role permissions, staff may be able to edit, copy, and delete their own availability. Depending on permissions, staff may also be able to configure availability for other users.
Creating Navigator Availability
To begin, open the Actions menu on the My Availability tab and select Add Time. You can also run the Availabilities report and select New Availability from the Actions menu.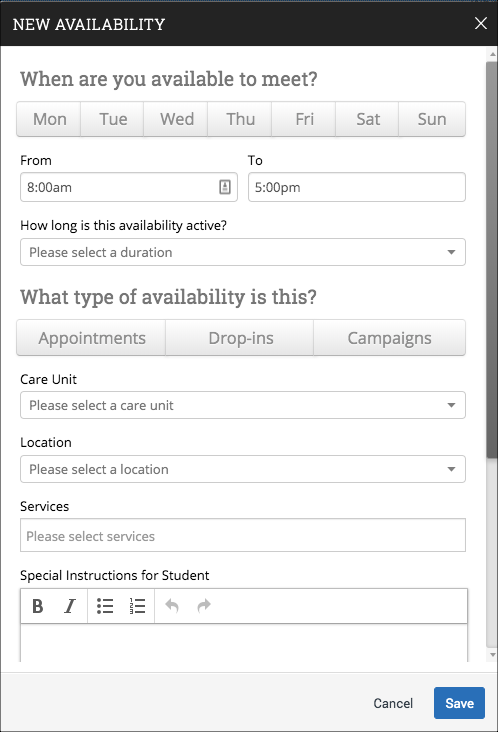 Next, select your Availability type(s). You can choose more than one at a time, e.g. you can set availability for both Drop-In and Appointments at the same time.
Now select your Care Unit from the drop-down. This will determine which location and services the availability will be for.
After selecting the Care Unit, select a Location. Then select which student services you can provide to students during this availability. You must select a Care Unit, Locations, and at least one Service.
If any Service you select is tied to a Course, a Course menu will appear and you will need to select the Course you are available for.
You can now optionally enter special instructions for this availability and determine how many students can be in one appointment. If you do not select a Max Number of Students per Appointment, the number will be capped at 1.
Note: The special instructions will be included in the initial notification to the student regarding this scheduled appointment. We recommend including general instructions, like your office location or how to check-in for the appointment upon arrival.
Click the Save button.
Repeat this process until all of your availabilities have been defined. You can have as many availabilities as needed.
There are two other options when adding Times Available.
Copy Time: To copy a time, select the time you would like to copy and then click the Copy Time button. The availabilities will be copied and a dialog will open allowing you to make edits or to save your newly created availability.
Delete Time: To delete your time, simply select the time and click the Delete Time button.
For additional assistance, contact Navigator@sfsu.edu or the DUEAP Lab in ADM 450.