While Zoom automatically pulls in your name and email information from the campus information system, you may want to change your display name, add a profile picture, or set your displayed pronouns in the system.
All of the following actions are done on your Zoom profile page. You can access your Zoom profile page by navigating to https://sfsu.zoom.us/signin and selecting profile in the navigation bar on the left.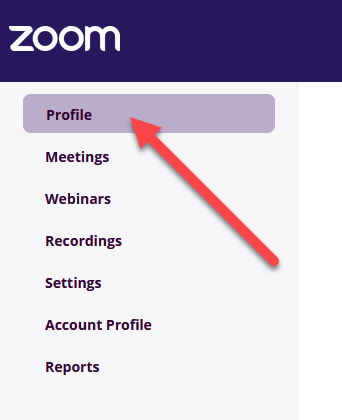 Changing your name and pronouns
On the profile page, you can change your first and last name, as well as display name. Display name is what Zoom will show as your name in every Zoom meeting. Pronouns are optional, but will also display in a Zoom meeting if desired. Note that pronouns are only visible to people using an up to date Zoom client.

Select the Save button at the bottom to save your changes to your Zoom profile.
Adding a profile picture
Mouse over your profile picture and select the pencil

Drag and drop a picture from your computer into the box OR select the Choose files button to browse for pictures on your computer.

In the box on the left, adjust the box to crop your image as desired. The small picture on the right will show you a preview of what your profile picture will look like.

Select Save once you are satisfied with your picture
For additional assistance, contact Academic Technology: (415) 405-5555, at@sfsu.edu, LIB 80