There are a few tips and tricks to making a Zoom call effective and and helpful tool for every participant in a call or session.
General etiquette
Remember that you are talking to your colleagues on campus. Students should abide by the standards for student conduct for the campus.
Video body language and presentation
As is the case with in-person meetings and presentations, eye contact in video calls can be a very important factor. In an informal call, such as a small group meeting or discussion, speaking with your eyes looking at screen may feel more natural. However, in a formal context, such as a presentation, speak while looking at camera lens, to simulate looking at your audience; this increases your presence and authority.
Clothing matters in a video call, particularly what you wear on your upper half; be conscious of what the camera captures, both on your person and in your home, and adjust accordingly. Avoid clothing patterns and colors that distract or obscure, including floral prints, stripes, shiny fabrics, or fuzzy details.
Camera positioning
Ensure your camera is elevated to give straight-on perspective during your call. Center yourself in frame, adjust the positioning, and check before starting the call to ensure you are framed properly.
Lighting
Position the camera so that you are facing a light source, and that that light source is never behind you. The best lighting is natural light, though direct sunlight may cause you strain; if no natural light is available, use a lamp.
Microphones
If you are not the person currently speaking, it is recommended that you mute your microphone.
To mute your microphone, select the microphone icon in the bottom left corner of the Zoom call. When the icon has a slash through it, it's muted.
To unmute yourself when you need to speak, select the microphone icon again.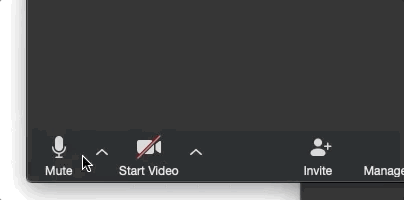 Muting your microphone helps others on the call focus on whoever is speaking at the time. It is generally recommended to mute your microphone as you join the call. Background noises can be distracting in a call, so make sure you keep everyone focused on the topic at hand.
Note: If you have joined a meeting via a landline or traditional phone, dial *6 to mute your phone. When you want to speak, dial *6 to unmute yourself.
Note: Meeting hosts have the ability to mute participant microphones. In the event that a participant is being disruptive or simply does not know how to mute their microphone, the host can do so on their behalf. This support document provided by Zoom provides more information on how hosts can mute all participants.
Video
Make sure you are aware of your surroundings when enabling your video. Bright lights and movement or other distracting backgrounds may detract from others ability to be able to concentrate on the topic at hand.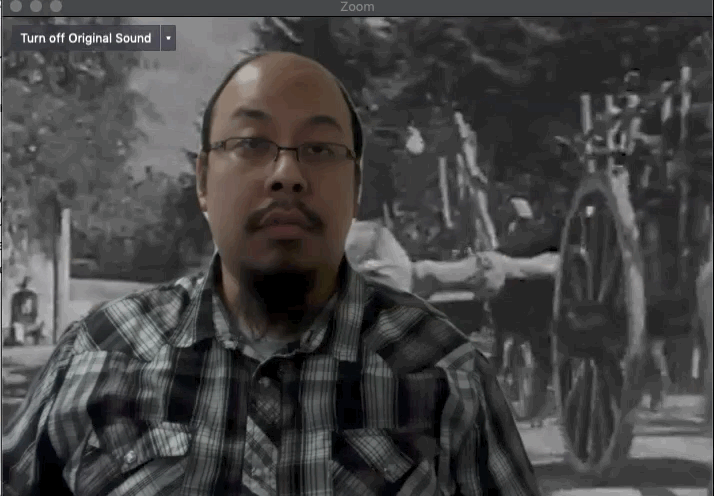 An example of a distracting video.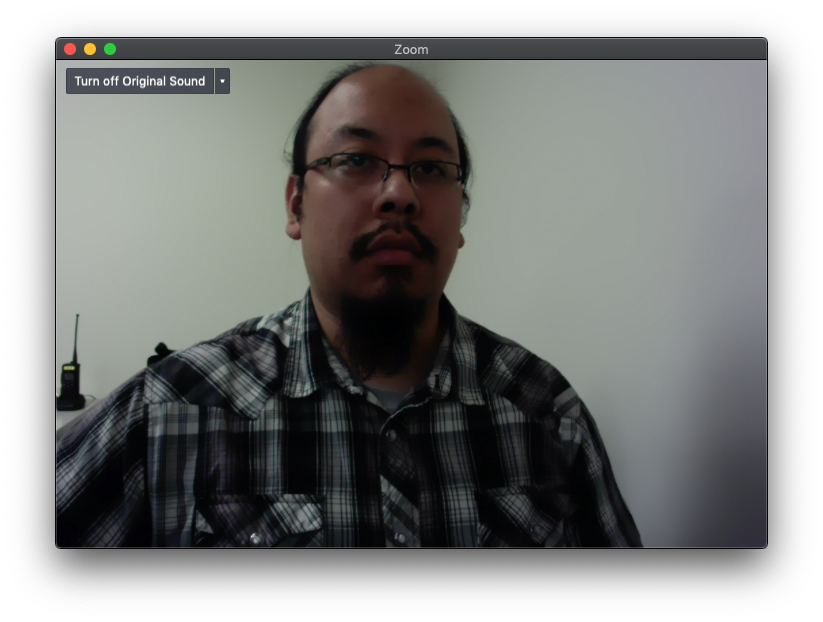 An example of a non-distracting video.
Other Tips
Remove any distractions you can before you start or join a video call, including the following:
Silence personal devices
Set up in a quiet location
Don't check email/phone/web while on video call, as other participants can easily tell when you are distracted.
If you intend to record the call, ensure that all participants are aware beforehand, or at the start of the call.
If you have time, test your microphone and video settings beforehand to ensure that all technical aspects are working properly, you are set up correctly, and you are visually prepared to participate in the call.
Encourage speakers to introduce themselves, especially if not everyone knows each other.
Address participants by name to signal attention on the call when body language is no longer available.
Anticipate unexpected outcomes, such as physical or technical interruptions, with patience.
For additional assistance, contact Academic Technology: (415) 405-5555, at@sfsu.edu, LIB 80