Canvas Grades highlights assignment statuses with a default set of five different colors; understanding the colors can help you quickly scan the Grades to identify students with a specific status.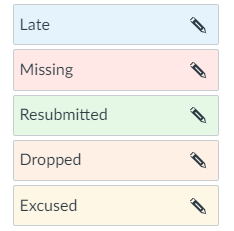 Blue: Late submission
Red: Missing submission
Green: Resubmitted assignment or quiz
Orange: Dropped grade
Yellow: Excused assignment
For Turnitin assignments, the gradebook also displays colored icons based on the submission's Similarity Report score.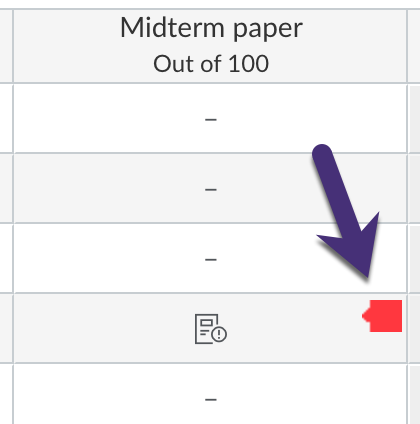 Blue: No matching text
Green: One word to 24% matching text
Yellow: 25-49% matching text
Orange: 50-74% matching text
Red: 75-100% matching text
Gray: Similarity Report has not been generated yet
For more information about Similarity Report scores, see Turnitin's Interpreting the Similarity Report page.