Requires Teacher Role.
Instructors have the ability to create Turnitin assignments in their Canvas course. Turnitin is a third-party integration that scans student submissions for plagiarism.
Note: In Fall 2023, Turnitin updated its Canvas integration. As a result, the steps below have been modified to reflect the new integration. Both integrations will work this Fall, but the older method of adding Turnitin assignments will be removed for Spring 2024.
Creating a Turnitin Assignment
1. Log in to Canvas.
2. Navigate to your course in Canvas.
3. From the left-side course navigation menu, select Assignments.
4. In the upper right corner, select the three dots icon.

5. From the drop-down menu, select Turnitin.
6. Under Title, enter a name for the Assignment.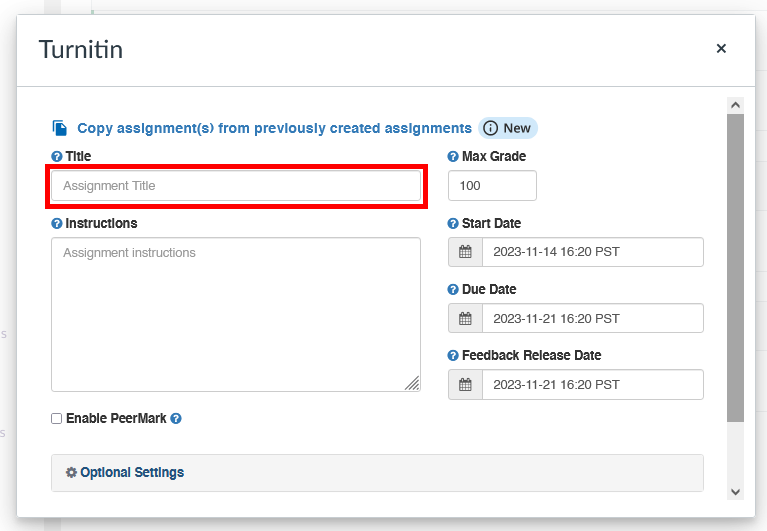 7. In the text box under Instructions, enter any information students will need to complete this assignment.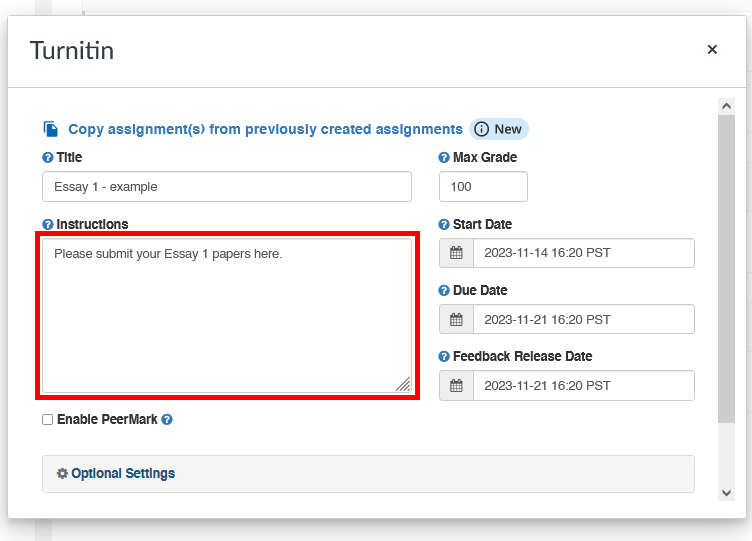 8. Under Max Grade, enter the total number of points this assignment is worth.
9. Set a Start Date and Due Date.
10. Set a Feedback Release Date. This setting controls when grades become visible to students.
11. [Optional] Select Optional Settings. Review the additional settings that are unique to Turnitin Assignments. Checking a box next to a particular setting will enable it. Unchecking a box next to a particular setting will disable it.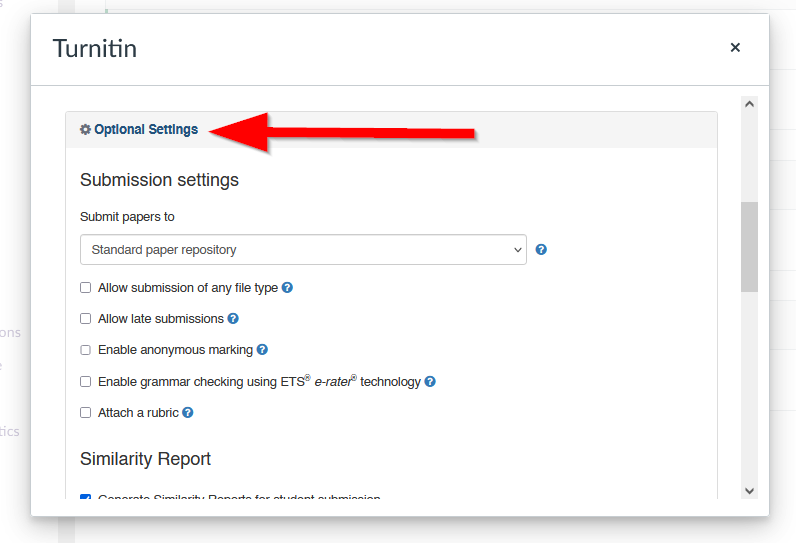 12. Once finished with the settings, select Submit.
You will see the Turnitin Assignment appear on the list of Assignments in the Assignments area of your Canvas course.
Adding the Turnitin Assignment to a Module
After creating a Turnitin Assignment, instructors can add it to a Module to make it easier for students to access.
1. From the left-side course navigation menu, select Modules.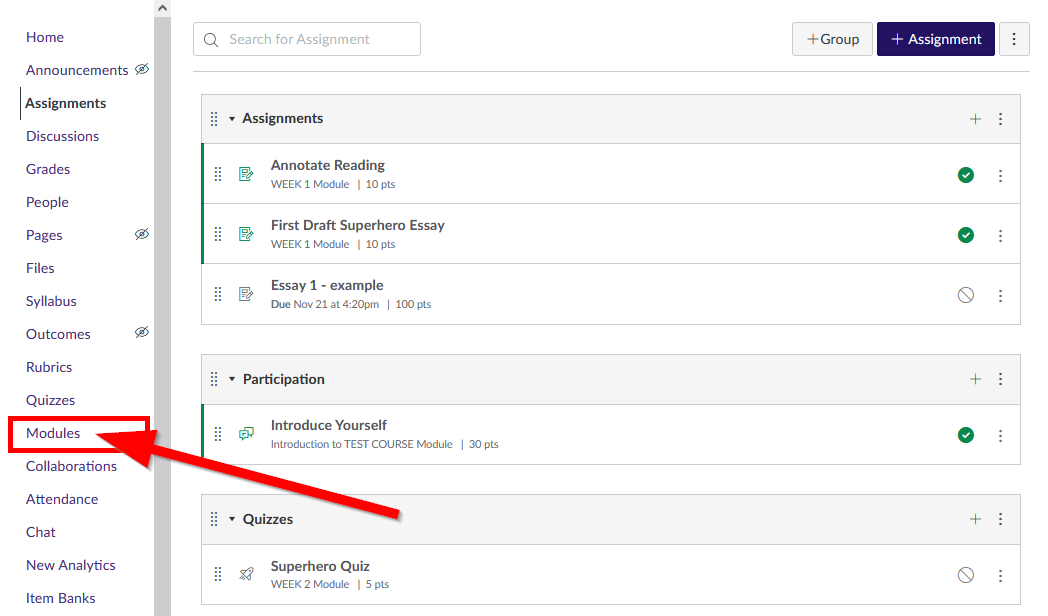 2. Find the Module where you want to add the Turnitin assignment, then select the + icon directly to the right of the module header.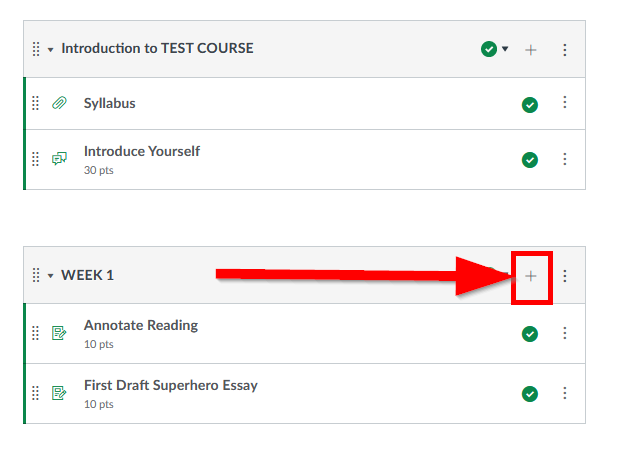 3. In the pop-up window, next to Add, select Assignment from the drop down menu.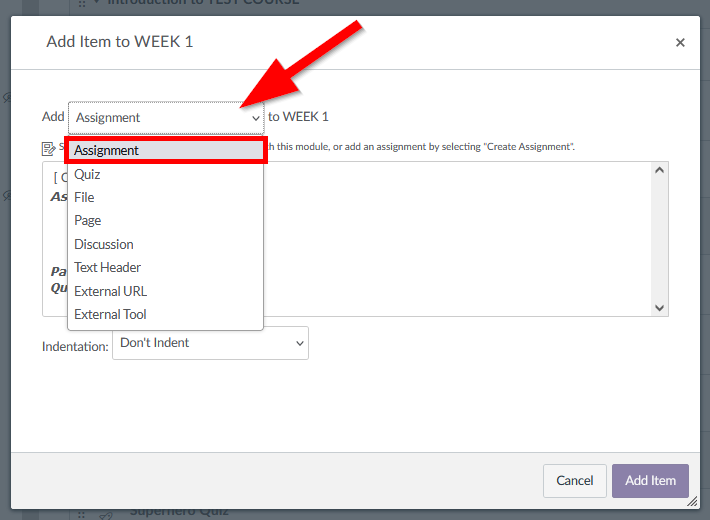 4. Select the title of the Turnitin Assignment.
5. Select Add Item.
The item will be added to the very bottom of the chosen module. Use the eight dots on the left side of the assignment name to re-organize content within a module.